Hi all,
disclaimer: I'm a tech-noob (I'm an online marketeer with an Information Manager degree. I know some things but electronics?..very little
). Excuse my ignorance as I'm here to learn
I own a Morley FX Blender.
http://en.audiofanzine.com/misc-guitar-effect/morley/fx-blender/user_reviews/r.92569.html
The principle is simple; it has a loop. The expression pedal controls how much of your dry bypassed signal and how much of the loop you want to mix. Heel: all dry; tip: all loop. In theory tis is great and I can do some cool delay/reverb of fuzz tricks with it.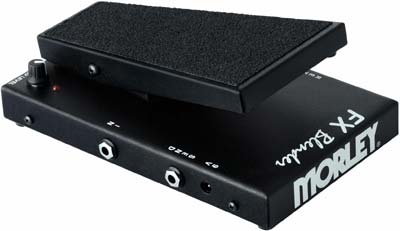 but...
I want to improve it.
I have the feeling that the useful range is a bit narrow.
I have to push it deep to hear the first change in effect and the range that I have between that point and the tip is really small. I want it to be divided more evenly. I think I have some kind of linear/log issue..
like this..
I found a notion a while ago that this could be achieved though. (But i'm not certain)
I've put some documentation on my webspace:
http://www.foolproof.be/varia/morleyfx.zip
(schematic, sweep and wah adjust documentation by Morley themselves)
Les big Q's...
- Can the "more even response" be achieved?
- Who on this board lives in my neighbourhood and can do this mod for me (shipping possible but it's rather heavy/big)? (Belgium: Muizen (close to Mechelen))